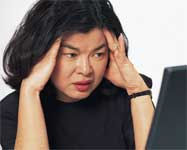 A PAYROLL HORROR STORY YOU CAN AVOID!
The information below was found on a website that presents complaints from customers that feel they have been cheated by a company. Below is a complaint about one of the very large national companies. We have removed the name of the national firm to avoid any legal problems, but the story is not new to the many independent payroll providers across the country. They obtain many new clients from this and other large firms, often as the result just this kind of service. Don't let this happen to you. Select one of Payroll Finders quality independent providers and find out what personal service really means!

*&%!$# is not the payroll service to use!

*&%!$# (Name Of A Large National Payroll Company)
Lenexa KS 66219 U.S.A.
"I used *&%!$# for my payroll services for a year. They started making gross errors in my payroll and delivering the paychecks late so I switched companies in Dec. of 2000. In January they deducted their normal fee for processing payroll even though they did not process a payroll for my company. I contacted them via email and did not receive a response. I also left voice mail messages which were not responded to. On my next bank statement I noticed they deducted more money in January which they were not entitled to. I have again called and emailed the company with no response from *&%!$#. My advise to anyone needing a payroll company is choose anyone but *&%!$#!"

Lies from *&%!$#
Six weeks after my first attempt to contact *&%!$# I finally was contacted by an *&%!$# representative. She informed me I would be getting two checks to cover the money they incorrectly took from my bank account. About one and a half weeks later I received two invoices showing credit for the amounts. Several weeks later, when I still had not received the checks, I sent an email inquiry about the matter. A message was left on my answering machine by T.... D.... stating that the checks would be mailed and I would have them in one week. It has been two weeks and still no checks. I have sent another email telling them that now they should pay me interest and if I do not have the checks within one week I will contact the BBB. Maybe that will make them do what is right and stop stealing from their clients, but I doubt it. If you own a small business I would recommend using ANY payroll service other than *&%!$# as they obviously do not care about client satisfaction. They were also informed of my entries on this site and they haven't even bothered to dispute my claims here! I guess they think they are above the law!
More lies from *&%!$#
Today I got a call from T.... D.... again. Guess what she said......the check is in the mail! They could at least come up with an original lie. That one is the oldest in the book. She said the company will not pay me any interest even though they have held my money for 4 months. I don't know of any company, including the IRS, that will not pay you interest on money they owe you. *&%!$# stole money from me and has taken 4 months (so far) to return this stolen money and now they refuse to compensate me. Please, do yourself a large favor and never do business with this company.
---
The story above sounds like something you might find when dealing with a government agency. It's called bureaucracy! It's just part of being a very large corporation with thousands of customers. If one is lost, it's just a number on a sales report somewhere.

When you chose an independent payroll provider, you will typically be resolving any occasional issues with the owner or top person of the company. You don't have to get caught up a large corporate maze pf "red tape" when you are trying to find someone to OWNERSHIP of a problem. There is no passing the buck or fighting your way up the chain of command to find anyone who can actually SOLVE your problem.

With an independent payroll service the route to the top decision maker is very short! You will find that when someone actually cares about your business the service is very personal and responsive.
The complaint shown above can be found on http://www.ripoffreport.com - Payroll Finders assumes no responsibility for the information contained in this report and cannot independently verify the facts in this case. Payroll Finders can confirm that we have personal knowledge of business owners who have had similar customer service experiences with this and other larger payroll providers.